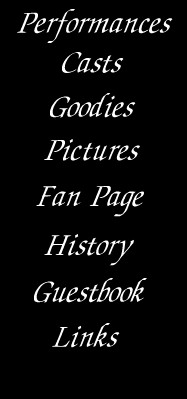 1776 is a musical based on the events surrounding the creation and adoption of the Declaration of Independence, and therefore the birth of the United States. It is set entirely in Philadelphia in the months of May, June, and July of 1776. The composer, Sherman Edwards, spent nine and one half years researching and creating this musical, and Peter Stone wrote the book. It was nominated for 5 Tonys in 1969, and won Best Actor, Best Featured or Supporting Cast in a Musical, Best Director in a Musical, and Best Musical. The movie came out in 1972. 1776 was recently revived on Broadway with Brent Spiner playing John Adams.

Click here for information on the recent 1776 national tour.
This unofficial 1776 site is by Dan Keck. About this site
- Page last updated: 9/1/01. I fixed the guestbook, added another fan page entry, and cleaned up some stuff here and there.

If you have a question, story, or potential discussion about 1776, I highly suggest you visit the 1776 Yahoo club. There are several friendly 1776 fans who will most likely talk with you.